Developed with several industry partners, the AI19 mobility experience is designed to meet the needs of the rapidly growing ride-share market. The AI19 provides a vision that integrates comfort, connectivity, safety and individualized heating and cooling into a vehicle interior that meets the unique needs of the individual while maintaining the flexibility for the operator.
Shared Mobility
With the seats angled slightly toward center at 15 degrees, direct eye contact is avoidable between strangers, yet social interaction is enhanced with those you know.
Personalization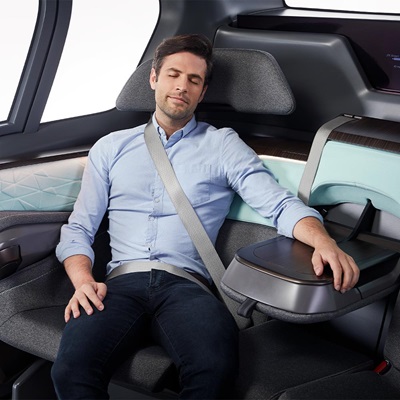 Working with a partner, Adient developed a control system that enables our seat to comfortably transition between postures. Personalized by the passenger, these modes are selectable based on activity and need, such as Greet, Active and Relax.
Serviceability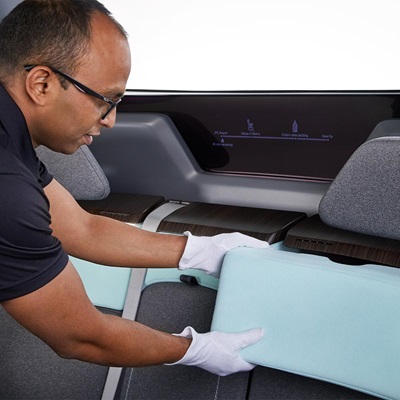 The AI19's highly modular seat structure is lightweight, durable and optimized for serviceability. Its simplicity improves quality while maintaining comfort for all passengers. The seating configuration can be arranged in multiple interior layouts, allowing for vehicle use differentiation and diverse trim levels — all within the same base architecture.
Connectivity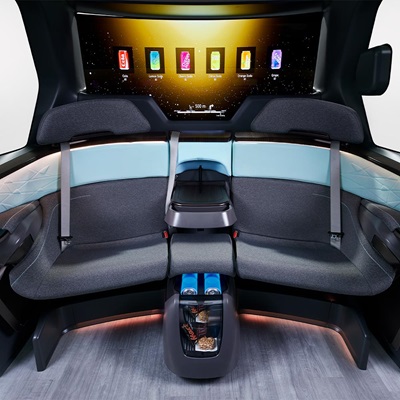 The AI19 encourages seamless integration of your digital lifestyle. From multimedia to communicating with friends, or even grabbing a drink from the snack bar, connectivity can help our trips become more productive and our time together more enjoyable.
Safety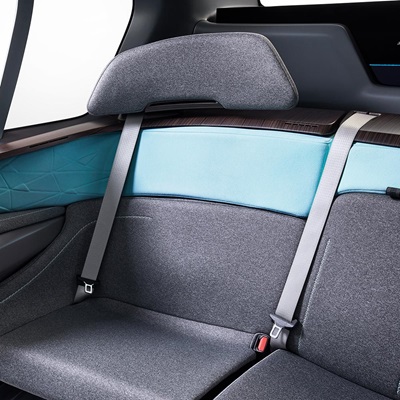 Along with integrated seat belts and air bags, the head restraint is designed to accommodate shifting postures and positions. Using an overhead-mounted camera, we make sure the headrest is always in the correct position for the passenger.
Command Center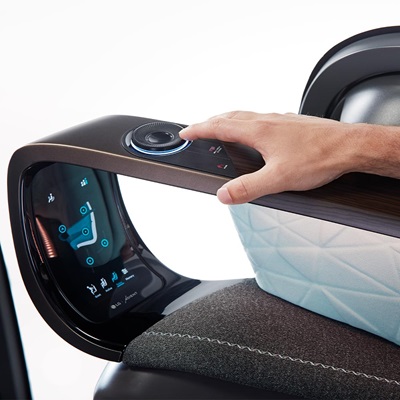 The entire on-board experience can be managed through fingertip or gestural control using our command center. Easily make quick changes to entertainment, thermal comfort and seat position with minimal effort.