Adient employees named "Champions of Diversity"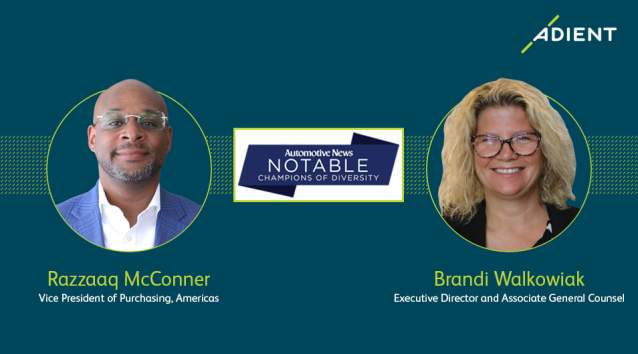 Two Adient employees have been recognized for their dedication to advancing DE&I objectives. Brandi Walkowiak, executive director and associate general counsel, and Razzaaq McConner, vice president purchasing, Americas, were recently named to the 2023 Champions of Diversity list by Automotive News.
The program recognizes executives in the U.S. auto industry who have demonstrated their commitment to improving diversity, equity and inclusion in the workplace and their communities.
Brandi was one of the inaugural members of and serves on Adient's Americas DE&I Diversity Council. In this role, she helped form a global network of DE&I liaisons in all of Adient's facilities. She has developed and implemented a number of global DE&I instructional sessions over the last several years that have trained more than 12,000 employees globally on the topics of inclusion, unconscious bias and respectful workplace. Brandi also serves as the president of Adient's Women's Resource Network (WRN) and she is a mentor and champion to many WRN members. Under her leadership, the WRN partnered with Automotive Women's Alliance Foundation (AWAF) to award its first STEM scholarship to a female college student.
Razzaaq McConner was one of the founding members of and serves on Adient's Americas DE&I Diversity Council. As executive co-sponsor of the African Ancestry Business Resource Group (AABRG), Razzaaq serves as a mentor to AABRG members and advances awareness of DE&I issues to the larger workforce through the BRG's programs.  Under Razzaaq's leadership, the AABRG sponsored the 2022 National Society of Black Engineers Region IV Fall Conference and spoke at the networking session to re-establish our relationship with the National Society of Black Engineers. In addition, his role as Supplier Diversity Responsibility/Champion for Adient has led to increased business awarded to minority- and women-owned businesses.
Click here to view Razzaaq's profile.
Click here to view Brandi's profile.