Adient and Toyota win 2023 Altair Enlighten Award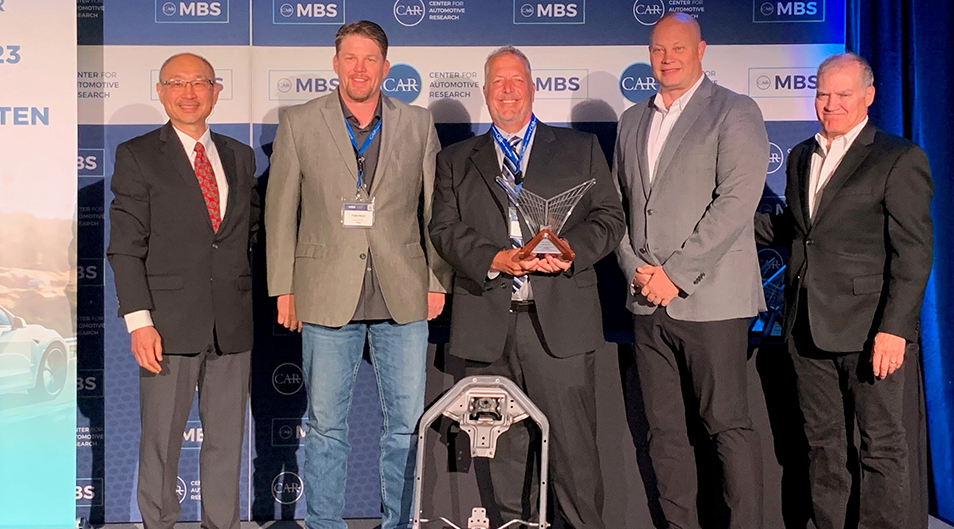 Left to right: Richard Yen, Altair; Todd Muck, Toyota; Darryl Noel, Adient; Brian Burke, Multimatic; Alan Amici, Center for Automotive Research
Adient, along with Toyota and Multimatic, were jointly selected as 1st place winners of a 2023 Altair Enlighten Award in the "module lightweighting" category for the new ProX IsoDynamic Seat's back frame design.
The Altair Enlighten Award honors advancements that successfully reduce carbon footprint, mitigate water and energy consumption and leverage material reuse and recycling efforts.
The award-winning design is created through hot tube forming, using high temperatures to form tubular parts with complex geometries.
From Darryl Noel, Chief Engineer for Adient, "It is an honor to represent the extended Adient team being recognized, along with our long-term partner Toyota and Multimatic, as the winner of the 2023 Altair Enlighten Award for the Tacoma Iso-Dynamic back frame. This award demonstrates the power of collaboration and our joint commitment to achieving a more sustainable seating system.
Toyota and Adient have enjoyed a close, very valuable, long-term partnership globally for decades. Because of this close relationship, Toyota trusted Adient to partner in the development of a truly unique seating system while maintaining the strictest discretion. It is very satisfying to see the positive recognition of the joint team's dedication to excellence."
This is the second consecutive year that an Adient product has been selected – our UltraThin seat was honored at the 2022 Altair Enlighten Awards.
Click here to view all winners.