Contact
Ulrich Andree
Director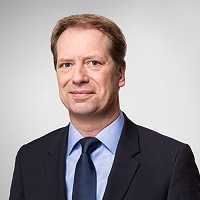 Adient strengthens global presence with market-tailored seating solutions for commercial vehicles
At IAA Commercial Vehicles 2018, Adient will focus on key markets, displaying its seating solutions for volume-production European, Indian and Chinese models.
Hannover, Germany; September 19, 2018 – Adient (NYSE: ADNT) is strengthening its position as the global leader in automotive seating by offering commercial vehicle manufacturers market-tailored driver and passenger seats.
"Since the launch of our last product generation six years ago, we have consistently expanded our portfolio of commercial vehicle seats in the key markets," says Dr. David Herberg, executive director of Commercial Vehicle Seating at Adient.
In Europe, for instance, Adient and its premium brand Recaro are supplying Scania, Renault Trucks and Tadano Faun with original equipment seating solutions. From the end of 2019, the company will deliver driver and passenger seats to new customer MAN Truck & Bus. "Within a short period of time, we have established ourselves as a reliable and valued partner of our European OEM customers," said Herberg.
In Asian markets, combining the right product offering with regional availability is the most important factor. Adient pursues this approach with a product structure that follows the path of OEMs regarding modularization, standardization and platform solutions. At the same time, it impresses customers by employing metal structural parts and other seat components from the Adient product portfolio that have proven their worth millions of times. Thanks to its global network of production sites, the company can also allocate local production capacities for commercial vehicle seats flexibly and quickly. Adient is also able to take charge of local development, sales management, and project management tasks for OEM customers.
India is a key example of this approach: The county's commercial vehicle market is changing due to new legislation and regulations regarding the safety of commercial vehicle cabins. Adient is benefiting from these circumstances by supplying its partner, Tata Motors, India's largest commercial vehicle manufacturer, with the 1516 Signa Seat for its Tata Signa model series of light- and medium-sized trucks. This new suspension seat for drivers on display at IAA 2018 has been tested in accordance with Economic Commission for Europe (ECE) specifications, which are applied in India as well. It also offers excellent utility value: Passive ventilation improves seat comfort particularly for long-haul routes, removable and washable seat covers score points in terms of personalization and cleaning.
Among its Chinese OEM customers is JMC Heavy Duty Vehicles Co., Ltd., which began producing its new JH476 heavy-duty truck for the Chinese market late last year. Joint venture company Chongqin Yanfeng Adient Seating Co, Ltd. (CQYFAS) is supplying this new model series with two versions of driver seats, featuring either a mechanical or a pneumatic suspension. Adient will present both versions at IAA Commercial Vehicles 2018. User-friendly functionality, outstanding ergonomics, and a high degree of comfort facilitate and enhance day-to-day working conditions behind the wheel – both in 9-to-5 and 24/7 operational environments, and for professional drivers and seasonal workers alike.


About Adient:
Adient is the global leader in automotive seating. With 85,000 employees operating 238 manufacturing/assembly plants in 34 countries worldwide, we produce and deliver automotive seating for all vehicle classes and all major OEMs. From complete seating systems to individual components, our expertise spans every step of the automotive seat-making process. Our integrated, in-house skills allow us to take our products from research and design all the way to engineering and manufacturing – and into more than 25 million vehicles every year. For more information on Adient, please visit adient.com.
About Recaro Automotive Seating:
Recaro Automotive Seating is the premium brand of Adient. At seven locations in Germany, Poland, Slovakia, Japan, Mexico, and the USA, we design, manufacture, and market complete seats representative of our core competencies of design, ergonomics, craftsmanship, robustness, lightweight construction, and first-class workmanship, under the brand name Recaro. Recaro Automotive Seating consists of two units: While Recaro Performance Car Seating offers passenger car seats for OEMs and the aftermarket, Recaro Commercial Vehicle Seating focuses on commercial vehicle seats in the OEM and aftermarket segments. Recaro Automotive Seating uses the brand Recaro under a license of the Recaro Holding. For more information, please visit recaro-automotive.com.
You can find information on our processing of your personal data on our website in various languages: https://www.adient.com/privacy.
IAA 2018 Market Overview(
3

)

Adient strengthens global presence with market-tailored seating solutions for commercial vehicles.