Contact
Ulrich Andree
Director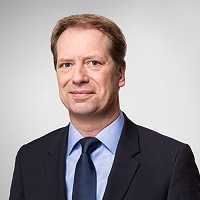 Adient to unveil seating solutions for the mobility of the future at IAA Commercial Vehicles 2018 in Hannover, Germany
Adient presents driver and passenger seats for OEM customers in important growth markets. With its "Seating tomorrow" demonstrator, premium brand Recaro showcases innovative product ideas for the cabin in self-driving trucks of the future.
Kaiserslautern, Germany, September 5, 2018 – In keeping with the 67th IAA Commercial Vehicles' theme "Driving tomorrow," globally leading seat manufacturer Adient (NYSE: ADNT) and its premium brand Recaro are focusing on the changing requirements for seats in future mobility concepts.
Pioneering approaches to autonomous driving with new comfort features
Recaro Commercial Vehicle Seating has intensively explored the changed requirements for autonomously driving commercial vehicles: With innovative approaches, its latest seating demonstrator, "Seating tomorrow," shows how driver and front passenger seats can be converted from a comfortable place for the driver into a workstation, a relaxation zone or even resting position. This includes new comfort and safety features for driver activation (massage, mobilization) and monitoring of body functions. The booth will also feature the latest Recaro aftermarket seating products for Europe and North America.
Global growth with market-specific original equipment products
Adient is successfully pursuing its global growth strategy with original equipment products tailored to specific markets in Europe and Asia. The company is also addressing additional markets with specific solutions. At booth C12 in Hall 16, visitors will be able to experience the current seating solutions for volume production from the cabins of European, Indian and Chinese truck manufacturers. These are based on Adient's modular platform for commercial vehicle seats as well as the use of the company's proven metal seat structures and components.
Since the launch of Adient's latest product generation six years ago, the high degree of vertical integration and its global manufacturing footprint, the company has expanded its commercial vehicle seat business in important regions. For example, the market share of Adient and Recaro commercial vehicle seats in European original equipment will be approximately 25% after the start of production for the new customer MAN Truck & Bus at the end of 2019. For India, an increase to around 40% is expected due to new legislation and regulations, in particular regarding the safety of commercial vehicle cabins.

About Adient:
Adient is a global leader in automotive seating. With 85,000 employees operating 238 manufacturing/assembly plants in 34 countries worldwide, we produce and deliver automotive seating for all vehicle classes and all major OEMs. From complete seating systems to individual components, our expertise spans every step of the automotive seat-making process. Our integrated, in-house skills allow us to take our products from research and design all the way to engineering and manufacturing – and into more than 25 million vehicles every year. For more information on Adient, please visit adient.com.
About Recaro Automotive Seating:
Recaro Automotive Seating is the premium brand of Adient. At seven locations in Germany, Poland, Slovakia, Japan, Mexico, and the USA, we design, manufacture, and market complete seats representative of our core competencies of design, ergonomics, craftsmanship, robustness, lightweight construction, and first-class workmanship, under the brand name Recaro. Recaro Automotive Seating consists of two units: While Recaro Performance Car Seating offers passenger car seats for OEMs and the aftermarket, Recaro Commercial Vehicle Seating focuses on commercial vehicle seats in the OEM and aftermarket segments. Recaro Automotive Seating uses the brand Recaro under a license of the Recaro Holding. For more information, please visit recaro-automotive.com.
You can find information on our processing of your personal data on our website in various languages: https://www.adient.com/privacy.