Contact
Ulrich Andree
Director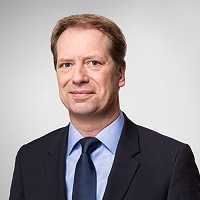 Recaro Automotive Seating is the favorite brand for commercial vehicle seats for the sixth year in a row
Recaro Automotive Seating, the premium brand of Adient, the global leader in automotive seating, scored a decisive win in the well-known "Best Brands of 2018" readers' poll conducted by ETM publishing. It once again took first place in the category of "Driver's Seats" for commercial vehicles. Based on a readers' poll by the German magazines trans aktuell, lastauto omnibus and Fernfahrer, the ETM Awards have served as an important benchmark and reliable yardstick for the commercial vehicle industry since 1997. This year brought record participation: 13,000 readers submitted their votes.
Stuttgart, June 22, 2018 – "We're very proud to have received this vote of confidence," said David Herberg, executive director of Recaro Automotive Seating. "What's even more delightful is that it's our sixth consecutive time on the winner's rostrum, which highlights the unique success story enjoyed by our latest generation of commercial vehicle seats."
In the "Best Brand" readers' poll, Recaro Automotive Seating's driver's seats scored considerably higher than the competition with 55.6 percent of the votes, ten percentage points ahead of the runner-up. With the launch of the new generation of seats in 2013, Recaro was immediately able to conquer the undisputed top rank for the first time, and has defended it effortlessly since then, year after year.
Herberg adds, "This recognition also proves that both truck manufacturers and end users are firmly convinced that Recaro products meet the utmost standards for quality and safety. A driver's seat from Recaro in the cab demonstrates the highest regard for the job done by the professional behind the steering wheel."
With its high-quality premium seats, Recaro's product portfolio provides professional drivers with the best possible support in their demanding daily work while also protecting their long-term health. In addition, the ergonomic benefits of Recaro commercial vehicle seats have been medically confirmed. Both the Recaro C 7000 and Recaro C 6000 aftermarket seats have been awarded a seal of approval from Aktion Gesunder Rücken e.V. (Germany's "Campaign for Healthy Backs") as recommended back-friendly products.
About Recaro Automotive Seating:
Recaro Automotive Seating is the premium brand of Adient. At seven locations in Germany, Poland, Slovakia, Japan, Mexico, and the USA, we design, manufacture, and market complete seats representative of our core competencies of design, ergonomics, craftsmanship, robustness, lightweight construction, and first-class workmanship, under the brand name Recaro. Recaro Automotive Seating consists of two units: While Recaro Performance Car Seating offers passenger car seats for OEMs and the aftermarket, Recaro Commercial Vehicle Seating focuses on commercial vehicle seats in the OEM and aftermarket segments. Recaro Automotive Seating uses the brand Recaro under a license of the Recaro Holding. For more information, please visit recaro-automotive.com.
About Adient:
Adient is a global leader in automotive seating. With 85,000 employees operating 238 manufacturing/assembly plants in 34 countries worldwide, we produce and deliver automotive seating for all vehicle classes and all major OEMs. From complete seating systems to individual components, our expertise spans every step of the automotive seat-making process. Our integrated, in-house skills allow us to take our products from research and design all the way to engineering and manufacturing – and into more than 25 million vehicles every year. For more information on Adient, please visit adient.com.
Source: RECARO automotive seating