Contact
Ulrich Andree
Director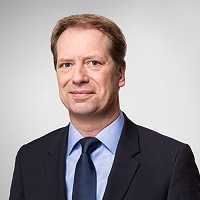 Adient, Boeing to use proven processes and expertise for superior quality and on-time delivery performance
Two global leaders join forces: Adient and Boeing are planning to establish the joint venture, Adient Aerospace. The companies' key competencies provide unique opportunities to create a compelling new choice for customers.
HAMBURG April 12, 2018 – Adient [NYSE: ADNT], the global leader in automotive seating, and Boeing [NYSE: BA], the world's largest aerospace company, are planning to establish a joint venture, Adient Aerospace, to develop, manufacture and sell a portfolio of seating products.
Adient Aerospace will leverage Boeing's industry leadership, deep understanding of customer needs and technical requirements, and Adient's unmatched expertise for comfort and craftsmanship along with the company's reputation for operational excellence. The joint venture will also benefit from both companies' world-class engineering teams, innovative cultures, as well as shared expertise in managing complex, global supply chains.
"We see an opportunity to differentiate across three key areas: comfort, craftsmanship and operational excellence. Adient's proven processes typically allow for a 99% or better on-time delivery performance, with much shorter delivery windows and greater variability in the product mix compared to aviation demands," said Jason Fahlbush, nominated COO of Adient Aerospace. "In addition to the mainstream automotive seating business annually producing several hundred thousand seats per customer, at Adient we also serve luxurious automotive brands with small-volume, highly customized product lines and assembly processes, which we intend to translate into our aircraft business."
Once formed, the new joint venture will likely use Adient's in-house testing capabilities for aircraft seat certification, including its Kaiserslautern facility in Germany, which has been testing aircraft seats for external clients since the early 1990s. Adient also has five other test sled facilities around the world and proven expertise in testing capabilities, such as durability, fatigue or static load. In addition, the company employs a comprehensive network of advanced Finite Element Analysis (FEA) teams to run simulations around the world.
Adient supplies systems and components for more than 25 million vehicles every year, meaning that roughly one in three cars across the globe has Adient seats or components.
In January 2018, Adient and Boeing announced their intent to form Adient Aerospace. The establishment of the joint venture is subject to customary regulatory approvals.
About Adient:
Adient is the global leader in automotive seating. With 85,000 employees operating 238 manufacturing/assembly plants in 34 countries worldwide, we produce and deliver automotive seating for all vehicle classes and all major OEMs. From complete seating systems to individual components, our expertise spans every step of the automotive seat making process. Our integrated, in-house skills allow us to take our products from research and design all the way to engineering and manufacturing – and into more than 25 million vehicles every year. For more information on Adient, please visit adient.com.
About Boeing:
Boeing is the world's largest aerospace company and leading manufacturer of commercial airplanes and defense, space and security systems. Boeing is also the world leader in combined commercial airlines and government services with customers in more than 150 countries. The company's products and tailored services include commercial and military aircraft, satellites, weapons, electronic and defense systems, launch systems, advanced information and communication systems, and performance-based logistics and training. Boeing employs approximately 140,000 people across the United States and in more than 65 countries. Company revenues for 2016 were $94.6 billion.
Cautionary Statement Regarding Forward-Looking Statements:
Adient and Boeing have each made statements in this document that are forward-looking and, therefore, are subject to risks and uncertainties. All statements in this document other than statements of historical fact are statements that are, or could be, deemed "forward-looking statements" within the meaning of the Private Securities Litigation Reform Act of 1995. In this document, statements regarding Adient's and Boeing's future financial position, sales, costs, earnings, cash flows, other measures of results of operations, capital expenditures or debt levels and plans, objectives, outlook, targets, guidance or goals are forward-looking statements. Words such as "may," "will," "expect," "intend," "estimate," "anticipate," "believe," "should," "forecast," "project" or "plan" or terms of similar meaning are also generally intended to identify forward-looking statements. Adient and Boeing each caution that these statements are subject to numerous important risks, uncertainties, assumptions and other factors, some of which are beyond their control, that could cause their actual results to differ materially from those expressed or implied by such forward-looking statements, including, among others, risks related to: the ability of Adient Aerospace to successfully implement its strategic initiatives or realize the expected benefits of the joint venture, the ability of Adient or Boeing to meet debt service requirements, the ability and terms of financing, general economic and business conditions, the strength of the U.S. or other economies, automotive vehicle or aircraft production levels, mix and schedules, energy and commodity prices, the availability of raw materials and component products, currency exchange rates, the ability of Adient to effectively integrate the Futuris business, and cancellation of or changes to commercial arrangements. A detailed discussion of risks related to Adient's business is included in the section entitled "Risk Factors" in Adient's Annual Report on Form 10-K for the fiscal year ended September 30, 2017 filed with the SEC on November 22, 2017 and quarterly reports on Form 10-Q filed with the SEC, available at www.sec.gov. Potential investors and others should consider these factors in evaluating the forward-looking statements and should not place undue reliance on such statements. The forward-looking statements included in this document are made only as of the date of this document, unless otherwise specified, and, except as required by law, Adient and Boeing assume no obligation, and disclaims any obligation, to update such statements to reflect events or circumstances occurring after the date of this document.
In addition, this document includes certain projections provided by Adient and Boeing with respect to the anticipated future performance of their respective businesses. Such projections reflect various assumptions of each company's management concerning the future performance of its businesses, which may or may not prove to be correct. The actual results may vary from the anticipated results and such variations may be material. Neither Adient nor Boeing undertake any obligation to update the projections to reflect events or circumstances or changes in expectations after the date of this document or to reflect the occurrence of subsequent events. No representations or warranties are made as to the accuracy or reasonableness of such assumptions or the projections based thereon.
2018 Aircraft Interiors Expo(
10

)

Adient and Boeing are showcasing a portfolio of jointly developed lie-flat business class seat prototypes to potential customers at the Aircraft Interiors Expo in Hamburg, Germany.