Contact
Claudia Steinhoff
Director, Europe and Africa Communications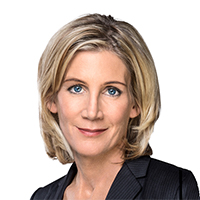 IAA 2017: Adient presents innovations for automotive megatrends at the International Motor Show in Frankfurt
Frankfurt am Main, Germany, September 12, 2017 – New forms of mobility such as autonomous driving, car sharing and electro mobility are changing our means of transport. What this means for interiors, and especially the vehicle seating system, will be showcased by Adient (NYSE: ADNT), the world's leading automotive seating supplier, with many new product solutions during this year's International Motor Show (IAA) from 12 to 24 Septem-ber 2017 in Frankfurt am Main, Germany.
A year has passed since Adient was established as an independent company after the successful spin-off from Johnson Controls. "One out of every three car seats which are installed in vehicles throughout the world is produced by Adient," says Dr. Detlef Juerss, Vice President Engineering & Chief Technical Officer at Adient. "We are therefore the leading partner of the automotive industry with regard to seat components and interior concepts. With our innovative technologies we are well prepared to address the major challenges of the industry and are already offering pioneering solutions for future vehicle concepts."
This year, the focus of the Adient exhibition is the presentation of its new AI18 innovation demonstrator. Following the presentation of the AI17 concept for luxury and premium segment autonomous vehicles at the beginning of the year, the AI18 focuses on urban, electrically-powered and autonomously-driven vehicles. Despite its compact dimensions, the seating concept flexibly adapts to the requirements of different users and is especially well-suited to evolving models for mobility and vehicle usage such as car sharing.
Just how flexible autonomous vehicles of level 3 and above could be in the future is demonstrated by the AI18's five usage scenarios.
"As well as a Lounge mode, the seating system also offers Communication, Cargo, Baby plus and Family modes. These provide users with suitable seating arrangements, space and technical support for particular situations while providing efficient, comfortable and safe transport," says Andreas Maashoff, Director Industrial Design & Craftsmanship at Adient.
In addition to the AI18 concept, Adient is presenting the following highlights at this year's IAA:
 Design, craftsmanship and comfort: Original and high-quality materials and designs enable customized vehicle interiors as well as new solutions for comfort. These include removable seat covers, UV-illuminated interior components and adaptive seats.

 Lightweight construction: Adient is pursuing various approaches to reduce weight in its seating systems. In addition to magnesium and composite elements as well as improved component geometries, Adient is presenting a complete seat for the rear row that can save up to seven kilograms. As a technological driver for lightweight automotive construction, products from the RECARO brand are also the focus at the exhibition.
 Safety: On the way to autonomously driven vehicles, seating systems will become increasingly flexible and will change passenger seating positions. Adient is showcasing a production technology with an integrated safety belt that improves passenger safety in new seat positions. The AI18 also includes concepts for technologies that address passenger safety in autonomously driven vehicles such as new airbag approaches or rapid adjustment of seats in the case of an imminent collision.
"Over the past years, the role of automotive suppliers has changed from mere suppliers of products to competent development partners for carmakers. To be successful, especially in the interiors sector, suppliers now need strong technical know-how as well as a deep under-standing of social megatrends and future consumer behavior," says Juerss. "With our inno-vative products, global development expertise and depth of integration, we can provide op-timum support to a changing automotive industry. Vehicles can be brought into the market that are tailored to the target groups' needs and from the consumer's point of view are dif-ferent from those of competitors."
Adient will present all of its technical developments to the public at its press conference at 10:30 a.m. on 13 September at the 67th International Motor Show (IAA) (Hall 5.1, B24).
The leading trade fair will take place from 12 to 24 September 2017 in Frankfurt. It is open to media and industry representatives from Tuesday 12 September to Friday 15 Septem-ber. The IAA is also open to the public from Saturday 16 September to Sunday 24 Septem-ber. You will find more information at www.iaa.de.
For additional information as well as photos and videos, please visit our website: adient.com/autoshows
About Adient:
Adient is a global leader in automotive seating. With 75,000 employees operating 230 manufacturing/assembly plants in 33 countries worldwide, we produce and deliver automo-tive seating for all vehicle classes and all major OEMs. From complete seating systems to individual components, our expertise spans every step of the automotive seat making pro-cess. Our integrated, in-house skills allow us to take our products from research and design all the way to engineering and manufacturing – and into more than 25 million vehicles every year. For more information on Adient, please visit adient.com.