Contact
Ulrich Andree
Director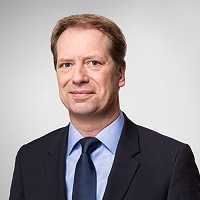 Adient AI18 demonstrator shows future of automotive seating
Scenario 2030: Convertible interior for automated urban vehicles
Frankfurt am Main, Germany, September 12, 2017 – At this year's International Motor Show (IAA), Adient (NYSE: ADNT), the world's leading supplier of automotive seats, will demonstrate new forms of mobility with its new AI18 innovation concept demonstrator. Adient's AI18 will show its vision of future mobility and the impact to consumers in 2030 and beyond.
"We believe that quality of life will be changed dramatically when the self-driving vehicle is deployed in the market", says Richard Chung, Vice President Innovation at Adient. "Drivers will become riders along with passengers, and they will get from A to B while being able to find additional time for things that are more valuable in their lives. They will also be able to arrive at their destination more safely and less stressful through Adient's advanced seating technology."
Adaptable for many usage scenarios
In the AI18, Adient has identified solutions for five key usage scenarios for future autonomous vehicles. They provide passengers with the appropriate seating configurations, space and functional features for efficient, comfortable and safe mobility experiences for each situation:
 Lounge mode provides optimal comfort and relaxation for one or two passengers. Front seats have a proprietary "anthropometric" pivot that enables the seat to recline and provide occupant support beyond the normal range. Key elements such as head support, integrated and adaptable armrests and a special leg rest are synchronised to move with the body. In order to provide optimal support for the safety of the passengers, the seatbelts in the front row seats are integrated into the seat itself rather than in the B-pillar of the vehicle. An improved seatbelt design holds up to the modified loads and movement patterns in order to meet the requirements of new seating positions in autonomous vehicles.
 Communication mode allows the vehicle to become a mobile meeting space. The front passenger can turn 180 degrees so that the driver and passenger can communicate facing each other. To enable this, Adient is developing a new form of kinematics for the seating platform. For the first time, this rotational movement is possible even if a passenger is sitting on the seat. To optimize passenger safety, the vehicle switches to communication mode only at low speeds or when the vehicle is not moving. All seating functions and other vehicle settings are controlled via a smart command panel integrated into the driver's seat. Therefore, the seat in the automated vehicle becomes the 'com-mand centre' wherever the driver moves in the vehicle space.

 Cargo mode enables full utilization of the space behind the front seats by stowing the rear seat cushions in the trunk. This provides easily accessible storage space behind the front seats for larger boxes or bags.
 Baby plus mode addresses the needs of parents with babies and small children. In this mode, the front passenger seat turns 180 degrees and one rear seat can be extended so parents can interact with their children. The integrated ISOFIX restraint system securely connects the child's seat to the vehicle.
 Family mode is the closest representation of a conventional vehicle interior – the seats face the direction of travel and the rear seat cushions are deployed to accommodate four passengers. New, lighter headrests are integrated into both front and rear seats, delivering superior comfort and reducing weight by around 20% less than comparable headrests on the market.
Smart features offer more safety, comfort and simple operation
Adient's AI18 demonstrates numerous smart solutions. Seat-setting preferences can be stored in an app and restored automatically upon vehicle entry. The smart command panel integrated into the driver's seat provides intuitive and easy usage settings using gesture control.
The AI18's seats not only provide comfort, they react intelligently with the passengers' bodies via intelligent seat sensors, which monitor body position and pressure points to optimize occupant comfort in each situation. Additionally, integrated health monitoring features can measure breathing and heart rate, providing valuable feedback to enable smart management of passenger health while sitting comfortably on the seat.
"As ride sharing becomes mainstream in the future and our lifestyle continues to become too busy for us to relax, comfort features such as body massage and heat/cool seat surfaces can be available as 'on-demand comfort services' on our seats," says Chung. "We are aiming to provide seat innovations that enable passengers to efficiently utilize every minute in the vehicle to make the most out of a busy day."
Adient's AI18 introduces more than 20 new innovative features and technologies to address future customer needs, as well as designed in compact, lightweight forms to serve urban and electric mobility requirements.
"Based on a modular approach, these new innovations in the AI18 have been selected so that they can be assembled individually," says Chung. "This will enable manufacturers to use the products in a wide range of vehicles for urban use – from micro-cars, minivans to mini-buses."
Adient will present the revolutionary AI18 innovation concept for the first time during its press conference at 10:30 a.m. on 13 September 2017, at the 67th International Motor Show (IAA) (Hall 5.1, B24).

The leading trade fair will take place from 12 to 24 September 2017 in Frankfurt. It is open to media and industry representatives from Tuesday 12 September to Friday 15 September. The IAA is also open to the public from Saturday 16 September to Sunday 24 September. You will find more information at www.iaa.de.
For additional information as well as photos and videos, please visit our website: adient.com/autoshows
About Adient:
Adient is a global leader in automotive seating. With 75,000 employees operating 230 manufacturing/assembly plants in 33 countries worldwide, we produce and deliver automotive seating for all vehicle classes and all major OEMs. From complete seating systems to individual components, our expertise spans every step of the automotive seat making process. Our integrated, in-house skills allow us to take our products from research and design all the way to engineering and manufacturing – and into more than 25 million vehicles every year. For more information on Adient, please visit adient.com.