Contact
Ulrich Andree
Director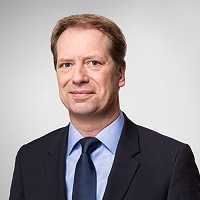 Recaro Automotive Seating continues its ETM-Verlag readers' choice winning streak in 2017
Recaro Automotive Seating has emerged as the clear favorite from "Best Brands 2017", a renowned readers' poll conducted by German publishing house ETM-Verlag. Approximately 11,400 readers (more than 50%) of ETM trade magazines trans aktuell, lastauto omnibus and Fernfahrer voted for Recaro Automotive Seating in the Commercial Vehicles Driver Seat category, handing First Place to the Adient product group for the fifth consecutive time. Company representatives accepted the award in Ludwigsburg on 21 June.
Ludwigsburg, Germany, June 21, 2017 – "We are delighted to have extended our winning streak this year and to have been awarded with First Prize in the commercial vehicle seating segment for the fifth time," said Dr. David Herberg, executive director, Recaro Automotive Seating. "It's a clear sign that our products are impressing target groups across the board – from manufacturers to end-users. Many of the readers of ETM's trade magazines are professional drivers who benefit from our products' reliability, as well as their top safety standards, comfort and quality."
By garnering more than 50 percent of the readers' votes, Recaro Automotive Seating's commercial vehicle seats ended up well ahead of the second- and third-place finishers, which received 33 and 28 percent respectively. In fact, the margin of more than 17 points earned the commercial vehicle seat manufacturer the highest winning margin of the past ten years.
Beyond supplying seats and racing shells to the motorsports and performance car markets, Recaro Automotive Seating also provides the commercial vehicle segment with an extensive portfolio of premium-quality seats, ideally adapted to the industry's diverse requirements. Among the company's current original equipment customers are Renault Trucks and Scania. MAN Trucks will join this group in 2020.
With its Recaro C 6000 and Recaro C 7000 aftermarket seats, Recaro Automotive Seating also offers end-customers numerous individual adjustment options and personalization features to ensure optimum seating comfort, even under long-haul conditions. Among these features are a combination of adjustable pelvis and lumbar supports, adjustable side supports in the seat cushions and backrests, shoulder adjustment, a convenient release mechanism for longitudinal seat adjustment, as well as separately adjustable seat ventilation and heating. The ergonomic benefit of commercial vehicle seats made by Recaro Automotive Seating has also been medically proven: Since 2013, the company's C 6000 and C 7000 models have borne the AGR Seal of Approval from the Campaign for Healthy Backs association (Aktion Gesunder Rücken e.V.).
About Recaro Automotive Seating:
Recaro Automotive Seating is a product group of Adient. At eight locations in Germany, Poland, Slovakia, Japan, Mexico, and the USA, we design, manufacture, and market complete seats representative of our core competencies of design, ergonomics, craftsmanship, robustness, lightweight construction, and first-class workmanship, under the brand name Recaro. Recaro Automotive Seating consists of two units: While Recaro Performance Car Seating offers passenger car seats for OEMs and the aftermarket, Recaro Commercial Vehicle Seating focuses on commercial vehicle seats in the OEM and aftermarket segments.
About Adient:
Adient is a global leader in automotive seating. With 75,000 employees operating 230 manufacturing/assembly plants in 33 countries worldwide, Adient produces and delivers automotive seating for all vehicle classes and all major OEMs. From complete seating systems to individual components, the company's expertise spans every step of the automotive seat-making process. Adient's integrated, in-house skills allow it to take products from research and design all the way to engineering and manufacturing – and into more than 25 million vehicles every year. To learn more, please visit adient.com.